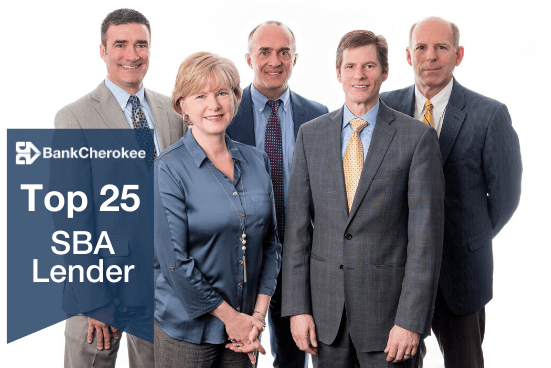 Helping Small Businesses Launch and Grow
BankCherokee received the honor of being included on the "Top 25" list of Small Business Administration (SBA) Lenders in the Minneapolis/St. Paul Business Journal Book of Lists. The book is a compilation of top companies that are highlighted in the magazine each week; it features more than 1,000 organizations, which are selected and ranked by businesses in the 24-county metro area.
"As a member of the Twin Cities business community for more than 100 years, BankCherokee is pleased to be included on this list of highly regarded organizations," said bank president Heidi Gesell. "It represents the wonderful job that our business lenders are doing to serve our customers and to provide financing solutions catered to their unique small business needs."
The SBA is the nation's largest single financial backer of small businesses offering a number of programs to help small businesses launch and grow, and BankCherokee is a designated SBA preferred lender. That preferred status not only means lenders are familiar with all of the program options provided by the SBA, it means that BankCherokee can approve an SBA loan in-house, getting small businesses the critical resources they need, and often very quickly.
Three lending options available through BankCherokee include the SBA 7(a) program, which provides qualified businesses with up to $5 million. Funds can be used to cover a number of expenses including working capital, equipment, real estate and business acquisitions. The SBA Express program is ideal for small business lines of credit and provides up to $350,000 for small business expenses. The 504 program funds real estate and fixed asset purchases at lower interest rates and with less down payment than is generally required with conventional financing.
"The Small Business Administration has specific criteria for businesses to qualify for SBA financing," said Steve Johnson, BankCherokee Senior Vice President of Commercial and SBA Loans. "Our seasoned team of lenders are here to help business owners navigate the process."
BankCherokee is committed to helping small businesses in the Twin Cities realize their full potential. To learn more about BankCherokee's SBA loan programs and how your business could qualify, contact Steve Johnson today at sjohnson@bankcherokee.com or 651-291-6246.