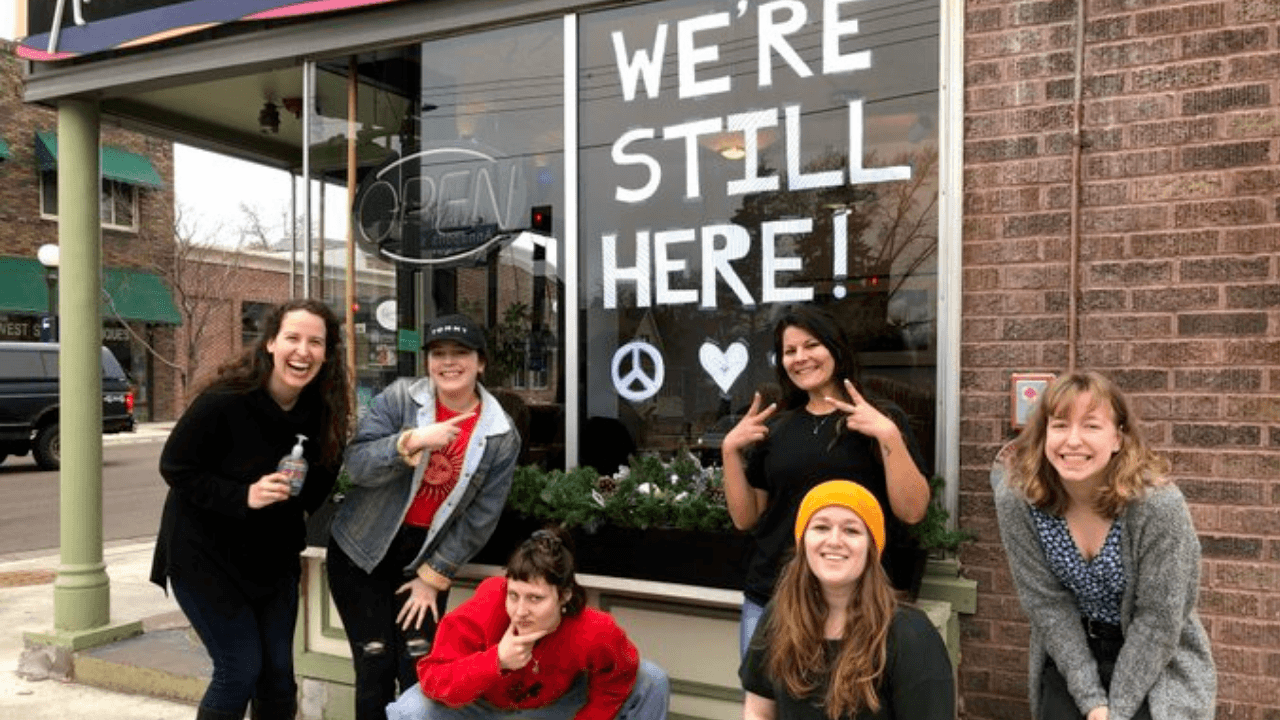 When Nancy Breymeier opened the doors to Amore Coffee on the west side of Saint Paul, she envisioned a welcoming gathering spot for individuals and groups of all kinds. That's exactly what it became, thanks to a supportive community and a dedicated team, which included a barista named Tara Wright. Years later, when Breymeier and her business partner began talking about selling Amore, and Wright expressed interest, they knew it was the perfect match. They patiently worked with Wright to get her in the best financial position to own a business. At the same time, Breymeier taught Wright the ins and outs of running a business—everything from payroll and budgeting to working with vendors.
As Wright and Breymeier continued to navigate the process of transferring ownership, they contacted BankCherokee. Breymeier had worked with Julie Novak, Senior Vice President of Commercial Loans at the bank for many years and had shared her desire to sell the business on a few different occasions. Novak had met Wright during her regular visits to the coffee shop and agreed that she would make an ideal owner. "Tara has a great light about her that shines through in everything she does," Novak said. "She exudes positivity and a can-do attitude."
There is magic that happens at brick-and-mortar businesses like Amore every day, all over the country. "You can connect with neighbors, share ideas for the community and learn what is important to others," Wright said.
When the women sat down together, Novak helped them understand the differences between a business acquisition loan and a traditional commercial loan. For starters, business acquisitions require the seller, buyer and lender to work collectively throughout the entire process. They must agree on the value of "goodwill" or "blue sky" assets. These include intangibles like customer relationships, which can be complicated to measure, but influence the company's worth. Additional advisors such as accountants and attorneys are pulled in to help determine what type of transaction is the right fit for the business. In some cases, it includes a sale of stock or selling the company's assets. An appraiser is consulted to verify the value of the business, which is determined partly by reviewing tax returns.
Another key component to a successful business acquisition is the involvement of the seller after the sale. When ownership of Amore was officially transferred to Wright in 2018, Breymeier stayed on as a consultant for several months. This, or the seller becoming an employee of the company, is common. It ensures the buyer receives critical technical support on business operations. The seller also helps facilitate the transition of customer, employee and vendor relationships. In most cases, a fee to the seller to do this work is included in the business purchase price, as is a non-compete agreement.
Though Wright is a strong believer of "if ain't broke, don't fix it," there were several things she tackled as a new owner to put her own stamp on the business. She asked customers for input on offerings and updated the menu. She kept the original name but refreshed the brand to include "buy local" messaging. Wright believes locally-owned coffee shops are the heart of the communities they serve and the original social network. There is magic that happens at brick-and-mortar businesses like Amore every day, all over the country. "You can connect with neighbors, share ideas for the community and learn what is important to others," Wright said.
The 2020 global pandemic halted that small business magic and created significant challenges for owners. Wright did as many scrappy business owners did to survive—she found ways to continue serving her customers. The entrance to the building was modified to create a takeout window so regulars could continue to enjoy their daily dose of caffeine and show their support for Wright and the Amore team.
Novak and BankCherokee have continued to support Wright through the pandemic as well, by helping her navigate the application process for the Paycheck Protection Program (PPP) through the Small Business Administration (SBA). The program provided low-interest loans for small businesses meeting specific criteria to cover payroll, rent, interest, and utilities. For businesses able to retain employees and keep wages stable, PPP loans could be partially or fully forgiven. Amore was one of more than 100 small businesses Novak helped secure PPP funding to get them through the pandemic. In all, BankCherokee has provided $73 million in PPP loans for 650 Minnesota businesses.
"As a family-owned community bank that has supported small businesses for more than 100 years, BankCherokee is committed to helping our clients navigate every stage of business ownership—from securing a loan to start or grow to navigating a sale, or staying afloat during challenging times," Novak said. "We're truly a partner in their success."
Wright is grateful to BankCherokee for that ongoing support, relieved to have made it through the storm, and excited that Amore's doors are open to customers again. She says the hardest part about the restrictions forced by the pandemic has been the inability to connect as a community. "The heart of our business is as a place to gather," Wright said. "We are ready to gather again."
All Stories