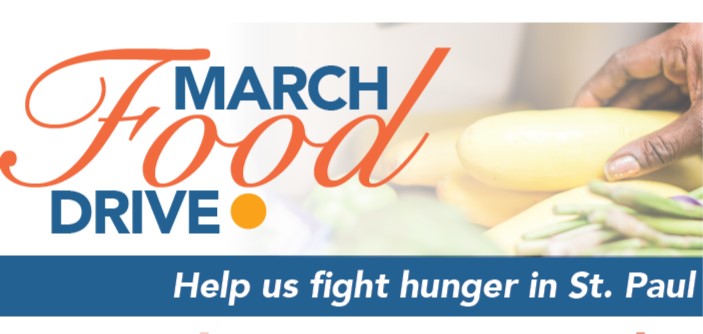 Mar 1, 2022–Apr 1, 2022 | 9:00am–5:00pm
March 2022 Food Drive
BankCherokee | Smith Ave. | Grand Ave. | North Oaks
In Minnesota, 1 in 10 families with children struggle with hunger. BankCherokee is helping, and you can, too.
No one should ever go hungry. That's why, to help ensure our area residents have consistent access to nutritious food, BankCherokee is again at the table with Neighborhood House, Keystone Community Services, and Ralph Reeder. These longtime non-profits stock their markets with healthy, multicultural groceries food for people from many parts of the world.
Below is a wish list of items that families they serve need most. Your contribution does makes a difference. Drop off your food item(s) or cash donation at any BankCherokee location. From our branches, we'll transfer all food and financial contributions directly to Neighborhood House and Ralph Reeder.
The need is great. Thank you for your support.
Items our food shelves need:
• Diapers and Wipes – especially size 5 and 6 diapers
• Hygiene supplies – especially toilet paper
• Cleaning supplies – especially laundry detergent
Non-perishable food items – especially the following items:
Canned meats and/or meals; Cereal; Peanut Butter; Baking supplies; Crackers; Granola bars; Mayonnaise; Ketchup; Mac & Cheese Cups; Juice boxes; Pudding cups; Raviolis; Oatmeal packets; Fruit cups; Cereal cups; Hamburger and Tuna Helper
Always welcome items:
Canned Vegetables – Bamboo shoots  Cabbage, Carrots, Corn, Green Beans, Green Chilies (canned or dry), Hominy, Jalapenos, Kale, Lettuce, Nopales (cactus), Peas, Potatoes, Onions, Spinach, Mushrooms, Tomatoes
Canned Fruits –  Apples, Applesauce, Canned Juices, Mandarin Oranges, Mangos, Melons, Oranges, Peaches, Pineapples,
Grains – Cereal (hot & cold), Mac & Cheese, Pasta (egg noodle, spaghetti), Rice (Jasmine, Kokuho, long-grained), Rice Noodles,
Dairy – Shelf-stable milk
Proteins – Beans (dry or canned—black, black-eyed, pinto, red), Beef Stew, Canned meats (beef, chicken, tuna, sardines), Chili, Peanut Butter,
Universal Staples – Cooking Oil, Flour, Maseca (corn flour), Rice Flour, Olive Oil,
Spices/Sauces – Curry Paste (red, yellow, or hot), Fish Sauce, Green Salsa (tomatillo), Oyster Sauce, Red Pepper, Salsa, Spaghetti Sauce,
Non-Food Items: Bath Soap, Diapers, Dish Soap, Laundry Detergent, Toilet Paper, Feminine Hygiene items, Shampoo & Conditioner, Pet Food, Tooth Brush & Tooth Paste,
Items needed for the Food Markets – Shopping bags, Egg cartons
Add to Calendar
03/01/2022 09:00 AM
04/01/2022 05:00 PM
America/Chicago
March 2022 Food Drive
In Minnesota, 1 in 10 families with children struggle with hunger. BankCherokee is helping, and you can, too.
BankCherokee | Smith Ave. | Grand Ave. | North Oaks
All Events