Bank Anytime Anywhere!
To Sign Up for Cherokee Online, simply click the enrollment button below and fill out the enrollment form. Once you've completed the enrollment form you'll have immediate access to your BankCherokee accounts.
Check out Mobile Banking with Mobile Deposit
Enroll in Cherokee Online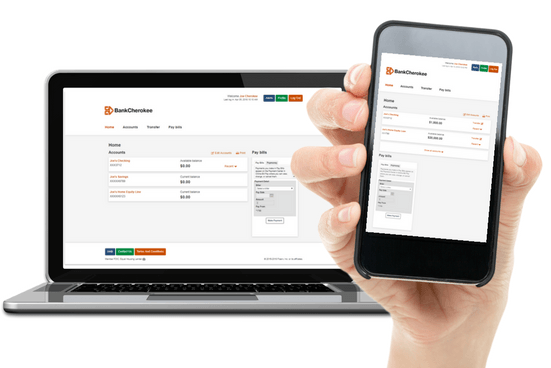 Features of Cherokee Online
View real-time account balances, check images and history
24-hour access to checking, loans, and CDs
Export history to financial software or spreadsheets
Transfer funds between BankCherokee accounts & accounts at other banks.
Pay bills online
Request stop payments
Safe and secure
eStatements
Simple: Statements archived online for easy download, storage, and printing – no need for file cabinets, boxes, or space to store them.
Fast: Faster delivery of statements – no need to wait for the mail.
Secure: Secure electronic file – reducing the risk of paper statements getting lost or stolen while being sent through the mail.
How to enroll in eStatements.
Log on to Cherokee Online.
Click on the Green Profile button located in the upper right-hand corner of the screen.
Scroll down to the bottom of the page and look for the section entitled Electronic statements.
Click on the Edit link to enroll.
Enroll today and discover all the advantages of eStatements.
GREEN…eStatements are good for the environment. They literally save tons of paper. Which means fewer trees need to be harvested, and less energy needs to be used to make the paper. Choosing eStatements is something easy you can do, that really is Earth-friendly.
SIMPLE…eStatements eliminate the clutter of paper statements and allow you to store and retrieve past statements right on your hard drive.
FREE…It costs you nothing to switch to eStatements — and to have access to every transaction in your account, including check images, right at your fingertips.
Bill Pay
Fast, secure Person-to-Person payments. Our personal payment service enables you to send and receive money to those you know, or owe, in as little as one business day — securely and electronically — right from Online Bill Pay. All you need is their email address or mobile phone number!
Search for vendors. Add new vendors simply by typing in the company name. If a match is found in the database, the vendor's information will be added automatically. No more hunting down mailing addresses! Simply enter your account number and add your bills to be paid.
Set up reminders. Never make a late payment again! When you set up reminders, you'll receive a message telling you when your payment is due.
Pay from multiple checking accounts. Choose which checking account to pay your bills from.
Make recurring payments. Eliminate the hassle of paying your monthly bills by setting up recurring payments. This is a great option for payments that don't change from month to month – such as your car payment or mortgage.
See it all at a glance! The Payment Center lets you make payments and view pending payments, recent payments, and bill reminders all on the same screen.
Cherokee Online Video Tutorial
Bill Pay Video Tutorial
eStatement Video Tutorial
Don't hold up the line...
...just hold up your phone. We offer Apple Pay, Google Pay, and Samsung Pay.


Mobile Wallets