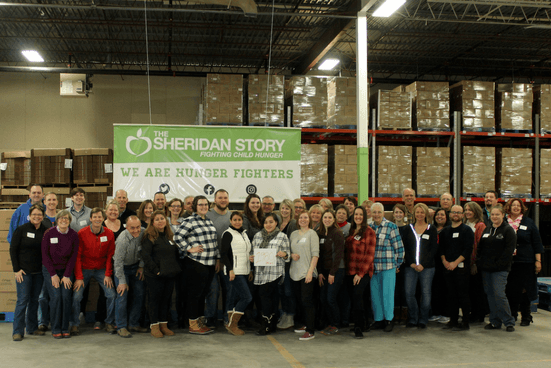 Giving Back in 2018
At BankCherokee, giving back is the easy part of a sometimes complicated business. Here's a glimpse at how we helped our communities during 2018.
Throughout the year
The Sheridan Story (now renamed Every Meal) In Minnesota, more than 200,000 children experience a lack of consistent access to enough food for an active, healthy life. Through The Sheridan Story, a non-profit that helps to ensure steady availability of sufficient and nutritious food, several BankCherokee employees regularly use their lunch hours to deliver food packs to classrooms at Adams Spanish Immersion School. This food helps to cover any weekend food shortages that students and their families experience.
Douglas Park. At this charming park just blocks from our Smith Avenue branch, staff devotes early mornings and lunch hours to pick up litter and pull weeds.
Neighborhood Paper Shredding and Food Drives. Three times a year, we host the popular event of shredding confidential papers free of charge for our customers…and combine it with a food drive, featuring Finnegans Reverse Food Truck. This bright green mobile operation gathers food and funds for hungry Minnesotans.
January
Feed My Starving Children. We partnered with Incarnation Lutheran Church in Shoreview to package nutritionally-complete meals specifically formulated for malnourished children.
June – July
Joseph's Coat. A car crashed into this "free store" near our Randolph Avenue branch, ruining its stock and forcing the store to close temporarily. To ensure the store could re-open quickly to continue providing the basics to its clients in need, we raised donations through collection jars at our branches, then matched the contributions up to $500!
August
Fill A Backpack. Customers and staff donated backpacks and other school supplies for deserving area students served by Neighborhood House and Ralph Reeder.
September
Community Impact Week. Launched by the Minnesota Bankers Association, this campaign gives member banks a focused period to engage their respective staffs in community service. For 2018's week, we sponsored a "flash drive" to collect kitchen supplies for Joseph's Coat (see above); scraped a garage and painted interior rooms of a property for NeighborWorks Home Partners; spruced up a trail / bike path in St. Paul's Little Bohemia neighborhood; cooked for and fed folks at Jeremiah Place, a residence housing families while moms finish up school or other training; and helped at the Salvation Army during a large-scale food selection process. Tellers and other staff who needed to remain onsite here knit winter hats and decorated Meals on Wheels bags.
October
Express Bike Shop. We collected 56 used bikes from staff and community, then delivered them to this St. Paul non-profit that helps teens learn bike repair, work and entrepreneurial skills, and sales and other tasks of running a small business.
December
Shoebox Project. Staff sponsored fifth-graders from Riverview Elementary on St. Paul's West Side; filled shoeboxes with holiday gifts; then wrapped, personalized and delivered them to the school.