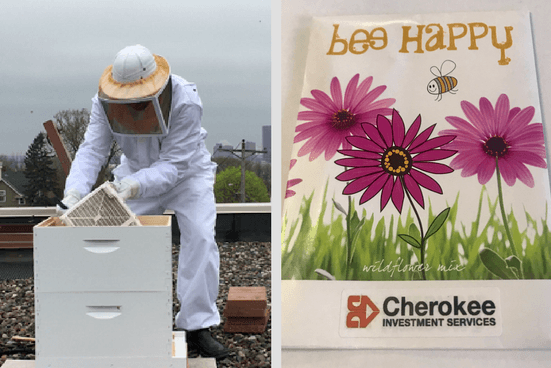 Check Out The Buzz!
They're Baaack! One of my beehives made it through the winter and lives to see another spring. Fighting off mites, cold weather and the dreaded colony collapse disorder, the bees pulled together and survived. Over 60% of hives do not make it through the winter, so I am very proud to have a hive that beat the odds.
A hive that survives the winter has many important traits:
Hardiness to withstand the cold Minnesota winter
Good honey production to provide the food for winter
Low mite loads to prevent an outbreak of mites
Good temperament to keep the hive from being overly aggressive or frantic
Bees working in harmony with mother earth
Now the bees will soon get back to work pollinating the plants and trees in our communities. I would like to help you. I am giving out pollinator friendly seed packets for you to plant in your yards and gardens. When you stop by this spring, ask me for your "Bee Happy" seed packet. You can also help by eliminating or cutting down on pesticide use at home.
A sustainable portfolio has very similar traits to that of a successful hive:
Hardiness – a good allocation mix that will weather the ups and downs of the market
Good production – steady growth in a portfolio may help you reach your goal
Low mite loads – never heard of mites taking over a portfolio, but if you don't have a sound strategy, who knows what will damage your portfolio
Good temperament – stay within your risk tolerance and avoid being overly aggressive or frantic when dealing with your retirement money. Slow and steady wins the race.
Harmony – our commitment to ESG investing, removing non-sustainable companies and adding more Environmental, Social, Governance (ESG) friendly investments
I look forward to seeing you this spring as our community continues to bloom and the bees continue their important role. You can always call me at 651-290-6114 to discuss integrating ESG (Environmental, Social and Governance) investments in your portfolio.
Bee well,
Jonathan Kvasnik, ChFC
Financial Advisor
Securities offered through Securities America, Inc., member FINRA/SIPC. Jonathan B. Kvasnik, ChFC, Registered Representative Advisory services offered through Securities America Advisors, Inc. Cherokee Investment Services and Securities America are separate companies.
Not FDIC Insured – Not Insured By Any Government Agency – May Lose Value – Not Bank Deposits – No Bank Guarantees
There is no guarantee that a company with a strong ESG score will outperform a company with a lower ESG score in any given market environment.