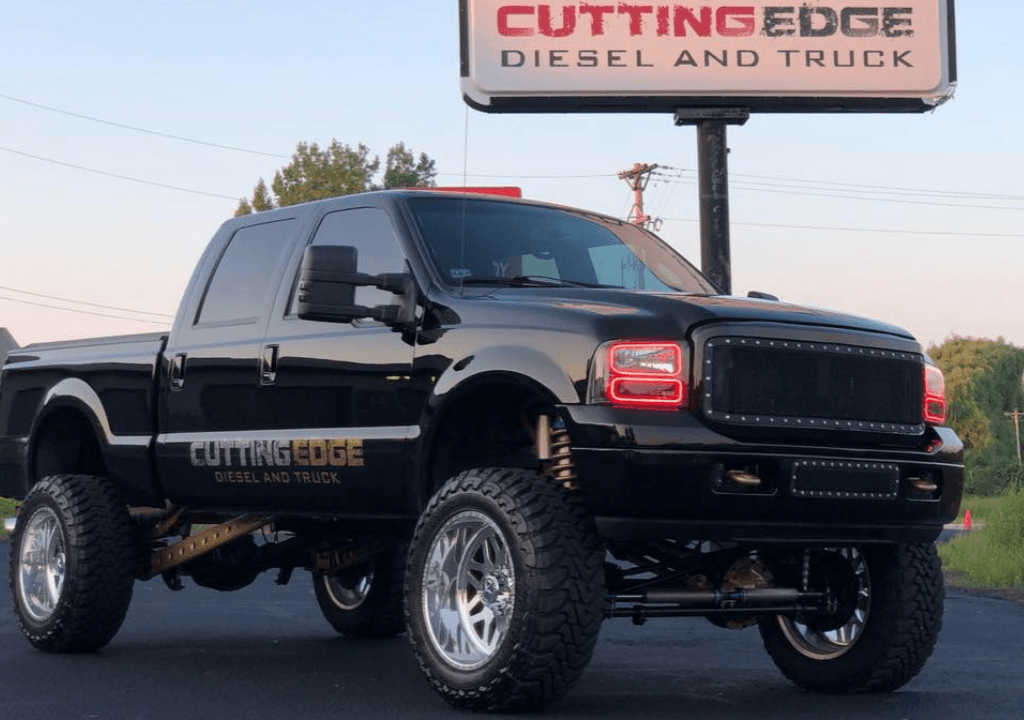 Small Business Success Story: Cutting Edge Auto
Josh Jeans looked over all the parts of an entire diesel engine laid out in front of him. He had what he thought was a brilliant idea—take it completely apart and put it back together again. A few of his family members owned the same model of diesel engine truck and they were all having similar problems. Josh had been learning about and repairing vehicle engines since he was a kid, working alongside his grandpa. But he hadn't worked on diesel engines. "There's no time like the present," he thought. He was determined to figure out the problem and fix it.
Months earlier, Josh and his brother, Jory, had been working full-time in construction. The recession had hit hard, and the industry had begun to slow down. People weren't spending money on new vehicles in the economic downturn. Josh was doing auto repair jobs on the side at a rented stall in a garage in Forest Lake. The idea of being a small business owner began to bubble up. He and Jory had talked about opening an auto shop for years. As demand for car repairs increased, Josh brought up the idea to Jory again. He convinced him that repairing engines was far more recession-proof than building houses.
Entrepreneurship was in their blood. They'd watched their dad run his commercial real estate business for years. So the Jeans brothers decided to take the leap and officially launch Cutting Edge Auto in 2009. And they were strategic in their approach. They started by renting another stall in the building where Josh was already working on cars. They hired a couple of mechanics. As business continued to pick up, they'd add another stall and hire more staff. Josh began specializing in diesel repair—he mastered the diesel engine model everyone was having trouble with. As they watched the renters of other stalls in the building go out of business, their company continued to grow. In fact, it doubled every year. Eventually, they were leasing the entire building and all seven stalls.
And then the bank that owned the garage property came knocking at the door. The building had gone into foreclosure. The Jeans were being evicted, despite sending in a rent check to the landlord every month. Once the bank sorted out the paperwork, they approached the Jeans about buying the foreclosed property. It was a great opportunity and perfect timing. But there was a hitch: The Jeans didn't have the cash in their business reserves to cover the typical down payment needed to finance the building. With the guidance of a reassuring business banker, they were able to negotiate a lower down payment and purchase the bank-owned property on a contract for deed.
That banker happened to be Jim Herbert, who joined the BankCherokee team as a senior vice president of commercial lending in 2018. A longtime lending expert, Jim has devoted his career to helping entrepreneurs and their small businesses succeed. Whether it's providing them with the guidance and the planning needed for buying a building (like he did for the Jeans), expanding a plant, purchasing equipment, or securing inventory—Jim is dedicated to educating business owners and showing them how the bank can help them achieve their financial goals.
"Having a close relationship with a small business banker has given us the confidence to continue to get bigger and better," Jory says. "Knowing someone will stick their neck out for you is like a safety net that allows you to take risks."
Josh agrees that their business relationship with Jim has been instrumental in helping Cutting Edge grow. But the Jeans brothers' success can primarily be attributed to their straightforward approach to auto repair. They don't suggest services that aren't needed. They are committed to providing best-in-class repairs at a fair price. And they've built a stellar reputation for diesel engine repair in the Twin Cities. On any given day, there are roughly 25 vehicles waiting to be repaired. Their business revenues have increased 700 percent since launching their business a decade ago.
"I recently watched Josh troubleshoot and help another BankCherokee customer get their vehicle running again in the parking lot," Jim says. "It's such a pleasure to work with business owners who are so passionate about what they do, and I'm equally as passionate about helping them succeed."
All Stories