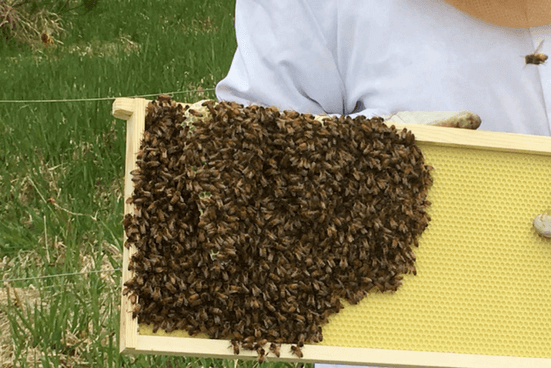 Finding Their Groove
Queen Bee-Oncé is singing to me about how busy they are in the hive. Her back-up dancers (aka worker bees) are collecting nectar and pollen to make the honey that will get them through the winter. While her dancers search the community for nectar, Queen Bee-Oncé is laying over 1500 eggs a day.
During this peak nectar season there's a whole lotta groovin' going on in the hive. When the back-up dancers find a new source of nectar they return to the hive to do the waggle dance. When there are multiple good nectar sources, the bees compete in dance battles to alert the hive to the new sources. The choreography of the dance shows the direction, distance and quality of the nectar. The first steps indicate the direction of the nectar and the waggles show the distance. The longer the waggle phase, the further away the source. The intensity of the waggle shows the quality of the nectar. The faster the waggle, the better the nectar. These dance battles can get pretty intense with the competing dancers interrupting each other and even fighting.
Wouldn't it be cool if the winner of the dance battle had visited your garden? You can encourage Queen Bee-Oncé's back-up dancers to visit your yard by planting pollinator friendly gardens and lawns.
When I work with clients to create a portfolio, I can screen for companies that are harmful to the bee habitat and the environment. In addition to making an impact locally, we can use ESG screened strategies to let our investments have an impact globally.
Bee well,
Jonathan B. Kvasnik, ChFC (aka King Bee)
Securities offered through Securities America, Inc., member FINRA/SIPC. Jonathan B. Kvasnik, ChFC, Registered Representative Advisory services offered through Securities America Advisors, Inc. Cherokee Investment Services and Securities America are separate companies.
Not FDIC Insured – Not Insured By Any Government Agency – May Lose Value – Not Bank Deposits – No Bank Guarantees
There is no guarantee that a company with a strong ESG score will outperform a company with a lower ESG score in any given market environment.