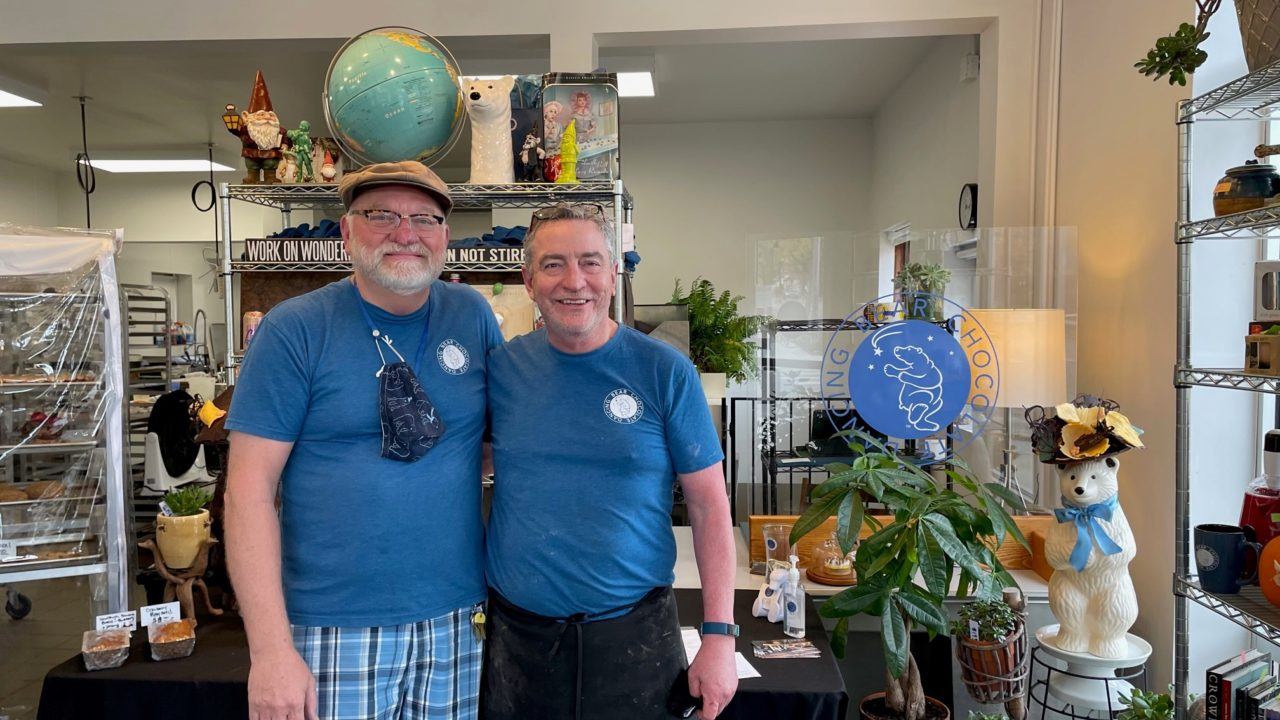 Dancing Bear Chocolate Finds Its Groove in 2021
For years, Joe Skifter and Steven Howard talked about combining their superpowers as a celebrated pastry chef and a business operations guru to open a chocolate shop. In 2017, while working full-time jobs as a general manager and an executive chef—both at respected Minnesota organizations—they took the first step. Howard began creating confections in a shared commercial kitchen space. They sold them at pop-ups, special events and online. Customers raved about the chocolates and sales were solid, but even with wholesale orders, it was a challenge to get ahead. They knew the key would be expanding to a storefront.
After a successful 2018 holiday season, Skifter and Howard decided it was time to take the business to the next level. At the start of the new year, the duo found a quaint corner building close to their home in North Minneapolis and knew it was the one. They secured a loan for the building from a national lender and used their personal savings for a down payment and most of the renovations. They developed a unique agreement with their general contractor. She believed in the couple's vision and agreed to be paid the balance after the business had been operating for six months.
Next, they went to the city for startup and operations funding. Only their business was underestimated because of its location. They declined the loan on principle and continued investing their paychecks into the shop. Then, in early 2020, as Skifter and Howard were preparing to open the doors to Dancing Bear Chocolate, the unthinkable happened—the global pandemic forced small businesses around the U.S. to shut down.
Skifter, who has decades of operations experience from managing coffee shops to running successful nonprofits, quickly shifted into problem-solving mode. They'd planned to add a "Sunday Gelato" walk-up window on the side of building in a later phase of the build-out, but had it installed right away. They pulled back on ordering a fancy display case and a high-tech point of sale station since there would be no in-store shopping for some time. A no-contact protocol was developed for serving customers safely. On the day of their official launch in mid-May, a socially distanced line formed down the block 30 minutes before the store was scheduled to open. They had to close early to restock chocolates and gelato.
"We had no idea what to expect," Skifter said. "Chocolate isn't exactly essential."
Clearly Minnesotans thought otherwise and were ready to shop small after stay-at-home orders and the winter thaw. On Saturday, Dancing Bear sold all its remaining inventory, which meant they were unexpectedly closed on Sunday—Mother's Day—which they projected would be their busiest day.
In just a few months, the couple's business had exceeded revenue projections. They left their jobs to work in the business full-time. As Dancing Bear Chocolate grew, the owners longed to build a relationship with a local banker and bank that would value their business. They asked around and a fellow business owner friend recommended BankCherokee. The fact that BankCherokee is small and family-owned was a win-win for them, so Skifter connected with Roger Hamilton, Senior Vice President of Commercial Loans. Hamilton immediately recognized the potential of the business, and Skifter and Howard's formula for success.
"Many banks turn down small businesses and tell them to come back after they have two or three years under their belt," Hamilton said. "We make sure the numbers work, but BankCherokee won't preclude a business in the startup phase. Especially one with a solid business plan like Dancing Bear Chocolate."
Hamilton worked with Skifter and Howard to refinance their original loan to save them money on interest and lower their monthly payments. In addition to easy online banking and convenient mobile deposits—which their original bank lacked—BankCherokee has been able to provide the kind of personalized service the pair was looking for from a bank from the start.
"Our previous bank didn't seem to care. We never heard from them again after the mortgage was set," Skifter said. "Roger is super easy to work with and has a real interest in Dancing Bear."
While Dancing Bear Chocolate has found its groove in year two, Skifter admitted that getting to this point has been far from easy. There have been endless worries about COVID and their customers' health, and many sleepless nights. But, he said, having great partners—in life and in business—is one of the keys to success. That, and the ability to persevere and to keep moving forward, despite the obstacles.
Banking Relationships Matter – contact Roger today!
Visit Stories to watch a video about Rogers longstanding business relationship with Aggressive Hydraulics and more customer stories.
All Stories