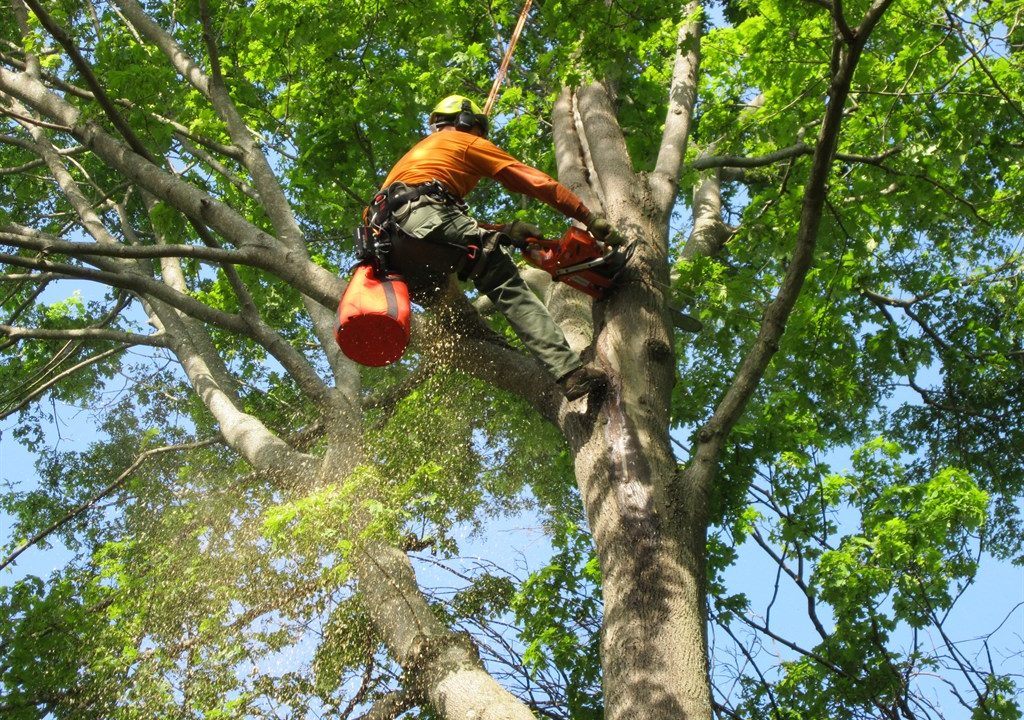 BankCherokee Goes Out on a Limb for Small Business Customers Like Branch and Bough Tree Service
Many business ventures begin because the founder had a vision for his or her future that couldn't be realized working for someone else. That's precisely what happened for arborist Andy Hovland. Fifteen years ago, he approached his then-boss about the tree maintenance company's succession plan and opportunities for advancement. When he learned his employer had no plans to expand, partner, or sell, Hovland decided to launch his own small business.
Branch and Bough began with Hovland who is certified by the International Society of Arboriculture (ISA), doing tree care and landscaping. His wife, Heidi VanSchooten, a high school art teacher, did the books. Over time the business grew organically, and the pair realized they'd have to expand their team to keep up with customer demand. The increase in business also meant more time would need to be dedicated to the operations side of things—preparing estimates, scheduling jobs and staff, office management. VanSchooten was on leave from her teaching job after the birth of their second child when she decided to make a career shift and tackle running the family business full-time.
The couple's dedication to urban forestry in the Twin Cities quickly became apparent, and Branch and Bough developed a reputation for using rope and saddle arboriculture—an approach to tree care that doesn't require heavy equipment onsite. The practice includes physically climbing and touching the tree, which enables the arborist to best assess its overall health. It is ideal for older and larger trees and where access is an issue.
The growth of the company also brought new challenges for Branch and Bough. From a business management standpoint, VanSchooten realized the checking account they'd opened at a big commercial bank was not enough. She switched to a credit union hoping to get more individualized attention. But that proved nearly as frustrating as working with the big bank. Decisions about financing were made offsite by underwriters. Turnaround times were lengthy.
It wasn't until VanSchooten connected with Julie Novak at BankCherokee that she learned the true meaning of a partnership between a community bank and local business. "I can't say enough about how great it is to have an actual relationship with a banker and a bank," VanSchooten said."Julie looks out for the business like it's her own. We walk into the bank and people know our names."
Branch and Bough secured financing for large equipment quickly from BankCherokee, which has been critical to keep the small business operating. "We use our equipment every day. When it breaks down we need to replace it immediately. Julie gets that, and she is able to move the process forward and get a decision right away," VanSchooten explained.
Early on, Novak also recommended that Branch and Bough open a line of credit for the business. "Most small businesses experience periods of time when they don't have a lot of cash on hand," she said. "Knowing there is money available to them whenever they need it enables the business to focus on what they do best, without having to worry about things like making payroll or purchasing supplies."
With two full-time crews amounting to six full-time ISA-certified arborists, Branch and Bough has reached its sweet spot from a size perspective. Hovland and VanSchooten don't have any immediate plans for growth, but they know Novak and BankCherokee will be there should they decide to expand. VanSchooten describes the partnership as life-changing. "I'm just not nervous anymore," she said. Which is a big statement coming from someone whose business and life partner spends most of his days suspended 60 feet in the air.
Are you looking for a banker interested in your success?
Experience and dedication matter, contact Julie today!
All Stories