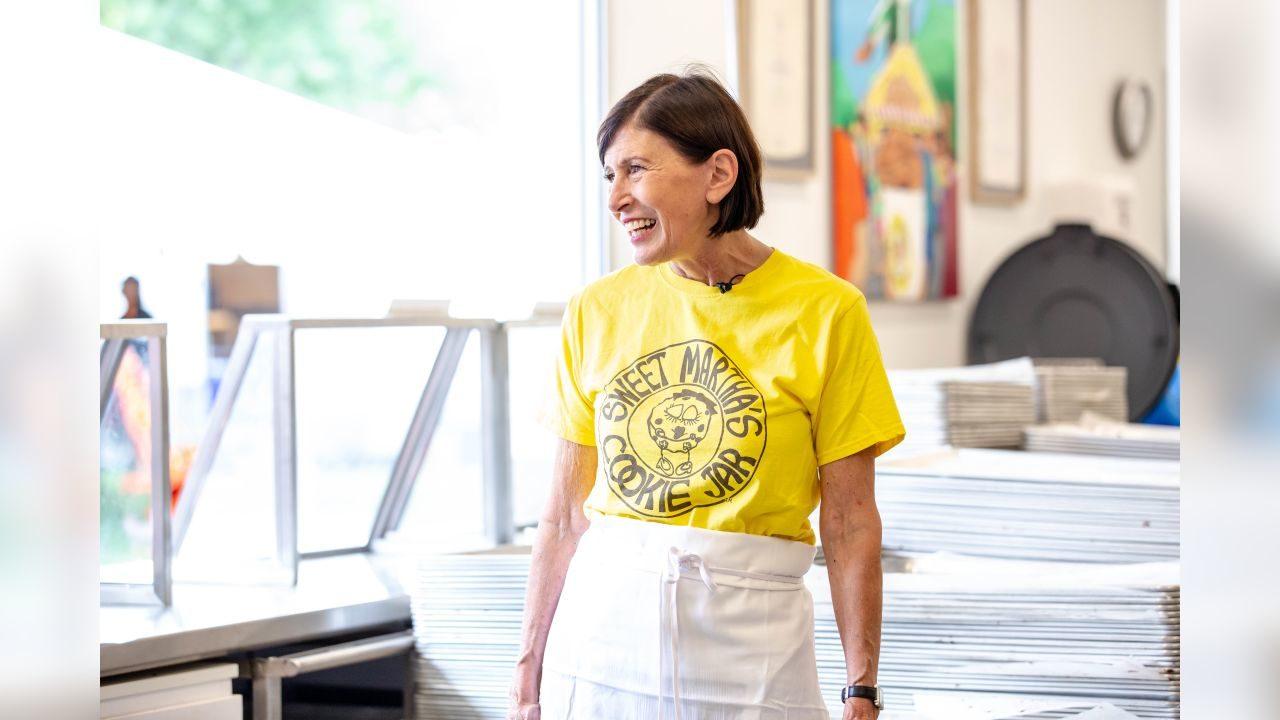 From Side Hustle to Sweet Success
Martha Rossini Olson hung up the phone and wasn't sure whether to laugh or cry. She had applied to be a vendor at the Minnesota State Fair for years, and her application for a frozen yogurt stand was always denied. She and her husband, Gary, and best friend Neil O'Leary—owners of a frozen yogurt shop in Minneapolis—had finally been invited to participate in the 1977 fair. But there was a hitch. They'd been approved as a chocolate chip cookie vendor, and the cookie crumbles they offered as a topping in their yogurt shop were ready-made. They didn't have their own cookie recipe, let alone the equipment to make and bake them in bulk.
Entrepreneurs at heart, the Olsons said yes to the opportunity and then hit the ground running. They had less than two weeks to come up with a plan and set it into motion. Gary and Neil worked together to build a mobile cookie stand and scouted out baking equipment for rent. Meanwhile, Martha began testing cookie recipes in her kitchen at home. They settled on a name: Sweet Martha's Cookie Jar.
They were as ready as could be when the fair began in late August. The team worked tirelessly for 12 days, baking and selling cookies. They recruited friends and family members to help out—a cookie community of sorts. Their hard work paid off. Fairgoers loved the gooey treats served fresh from the oven in paper cones, and the State Fair invited them back again the next year.
The day after the fair, Martha returned to her job as an elementary school art teacher and Gary and Neil returned to the frozen yogurt shop. The team decided to continue partnering in the venture and agreed to put all of the profits into improving their seasonal business. "The great thing about having a side business that operates for just a few weeks out of the year is that you have 11 months to think about how it could be improved," Martha said.
The Sweet Martha's crew has been committed to continual improvement since their first fair. Over the years they've had other partners and thousands of employees. In addition to delivering a simple, high-quality product, they've stayed true to a philosophy about business operations for more than two decades. They believe in rolling up their sleeves, working hard and treating others well. Martha says the key is working with like-minded people.
"There's no other fair in the country like the Minnesota State Fair," Martha said. And she's right. It's the second biggest fair in the United States. The 2018 Minnesota State Fair was the best attended in its 159-year history, with more than 2 million people passing through the turnstiles in under two weeks. But it goes beyond the crowds. Sweet Martha's has participated in other fairs and events over the years and has never been given the same support and consideration—or love—that they continue to receive in their own backyard. As Minnesota's most popular food attraction at the fair generating over $4 million in cookie sales this past summer, the partnership is a win-win for everyone.
Martha also acknowledges the importance of working with a community bank like BankCherokee and her business banker Julie Novak, Senior Vice President of Commercial Loans, who understand the unique challenges of operating an ever-growing enterprise within the borders of the state fairgrounds. "We own our buildings, but we lease the land on a year-to-year basis," Martha explained. "There are many operational considerations—deliveries, staff, security. Julie and BankCherokee have always been our partner in coming up with innovative ways to manage the uniqueness of our company."
This holds true when it comes to business partnerships as well. Sweet Martha's Cookie Jar has grown from one tiny stand in the '70s to three locations today. Martha acknowledges that none of it would have been possible without the support the business has received from the Minnesota State Fair and BankCherokee.
"We know how important the State Fair is to Minnesota's thriving economy, and Sweet Martha's Cookie Jar plays an integral role in that," said Julie. "BankCherokee is proud to support the continued growth of the business." This year, that growth included making the third Sweet Martha's location a permanent structure in Machinery Hill on the fairgrounds and expanding Sweet Martha's frozen cookie dough market to grocery stores nationwide.
As for the future of Sweet Martha's Cookie Jar, Martha and the original partners' succession plan is already in motion. The next generation of leaders—including the Olsons' and O'Learys' adult children and other family members—will step in and transition into key roles over the next few years. In the meantime, Martha, Gary and Neil and his wife Brenda continue to spend their end-of-summer days baking and selling cookies alongside their team. And they couldn't be happier for the cookie community they've created. "There's nothing more rewarding than building a brand people love with a core group of people who all share the same values."
All Stories