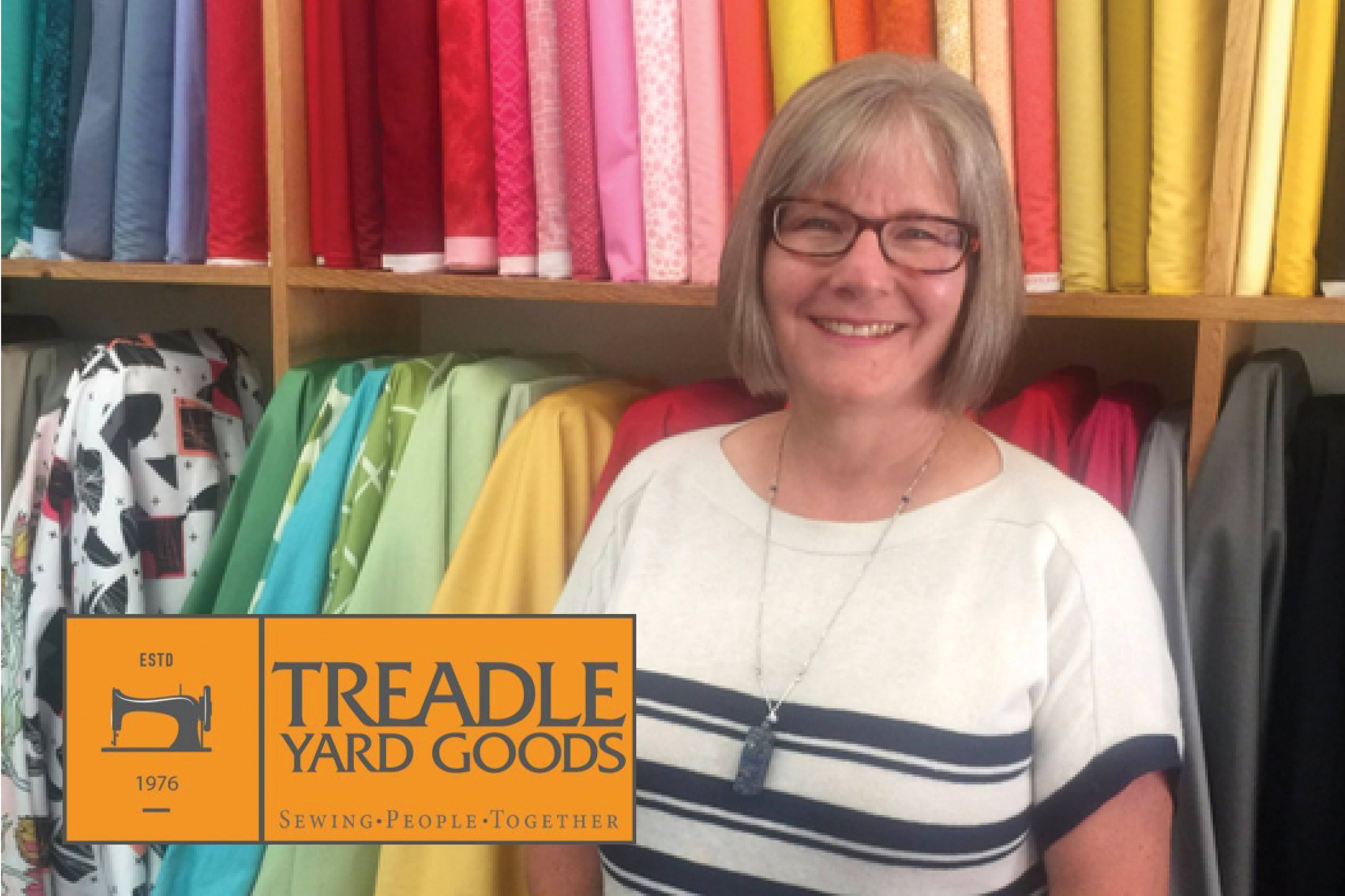 BankCherokee Stitches Small Business Sellers and Buyers Together.
Treadle Yard Goods New Owner Celebrates Five Years in Business.
Sometimes launching a small business is the result of many years of dreaming and researching and planning. Other times, an opportunity for small business ownership comes knocking at your door. The latter is how it happened for Treadle Yard Goods owner Michele Hoaglund.
"The SBA program supports businesses by mitigating some of the risk associated with financing goodwill for the buyer, and in some cases the seller also needs to contribute, by accepting payments for the business over time."
Hoaglund had been raised by two generations of seamstresses and began sewing at a young age. By the time she was in high school, she was masterfully stitching together entire outfits. After taking a few years off, Hoaglund began sewing again when her soon-to-be husband gifted her a top-of-the-line Kenmore sewing machine just before they got married.
A few years later, as a new mom in search of part-time work, Hoaglund wandered into a charming shop specializing in unique natural fiber fabrics at the corner of Grand and Hamline in St. Paul to inquire about employment. The next day, with her infant daughter in tow, she returned for an interview with Treadle Yards Goods Co-Owner Mary Daley. She was offered a job on the spot and began working a few days later.
Hoaglund put her skills to good use at Treadle, sharing her expertise with customers in search of the right fabrics, patterns and notions, and teaching a variety of sewing classes. She was part of a creative and talented team that became her second family. In 2015, the matriarch of that family, Mary Daley, decided to sell the business, and a fellow "Treadlette" suggested Hoaglund consider buying it.
"I realized I had an opportunity to carry on the wonderful 40-year legacy created by Mary and Paul Daley," she said. "But I had no idea what to do next."
At Daley's suggestion, the women consulted Julie Novak, her small business banker at BankCherokee who had worked with the business for many years. Novak brought colleague Steve Johnson into the mix and together the experts in commercial and Small Business Administration (SBA) loans worked closely to guide Hoaglund and Daley through the process.
"A business acquisition loan is different than a typical commercial loan in that it requires the buyer, the seller and the lender to all work in concert," said BankCherokee Vice President of Commercial Loans Julie Novak.
A community bank helping start and grow small businesses for more than 100 years, BankCherokee is committed to helping all of its clients understand the intricacies of the business acquisition lending process. Details include agreeing on a fair price for the business, and determining the value of "goodwill" or "blue sky" assets—the intangible items such as customer relationships that can be difficult to measure but influence profitability.
"Financing the goodwill impacts the buyer and the lender," explained Steve Johnson, BankCherokee Senior Vice President of Commercial and SBA Loans.
Additional advisors are consulted during the business acquisition process as well, including accountants and attorneys who determine which transaction type makes the most sense for the business, such as a sale of stock or selling the company's assets. In order to substantiate a business acquisition loan, an appraiser verifies business revenue through tax returns and other means.
And with business acquisition loans, establishing the role of the seller after the sale can be critical to the future success of the business. Oftentimes, the seller stays on as an employee or consultant, teaching the buyer the ins and outs of the business, and transitioning customer relationships. In most cases, the purchase price includes a fee to the seller for this work, in exchange for a non-compete agreement.
There were aspects of the process that challenged Hoaglund, like pulling a business plan out of her head and putting it on paper, but she credits the partnership with her small business banking partner for getting her through it painlessly. "I thought acquiring the business was going to be a lot more difficult than it was," she admitted. "But BankCherokee guided me every step of the way."
This year, Hoaglund celebrates her five-year anniversary as owner of Treadle Yard Goods. Business is booming and classes are full. That trusty Kenmore sewing machine her husband gave her all those years ago has become a well-loved fixture in the classroom, used by hundreds of women, men and children learning to sew or honing their skills. And Hoaglund couldn't be happier that the opportunity to be a small business owner came knocking on her door.
Are you looking for a business banker?
Experience matters, contact Julie or Steve today!
All Stories