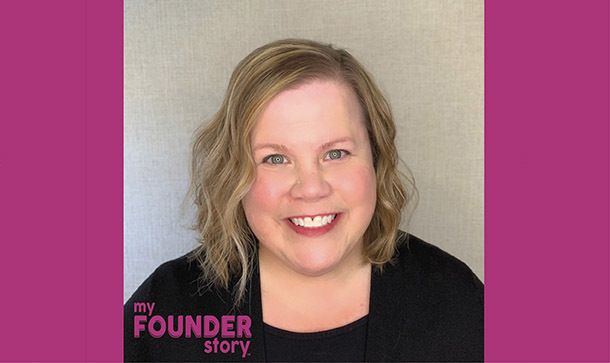 BankCherokee Partners With My Founder Story to Support Women Small Business Owners
"Isn't this exciting?" Chris Olsen asked a cluster of entrepreneurs commiserating in the corner. They were in the conference room at the nonprofit women's business development center where Olsen taught marketing when she wasn't working in her consulting business.
"It's like we're on 'Shark Tank,'" one woman groaned.

"The Sharks can be so brutal," another said with a gulp.

"No one's going to eat you alive here," Olsen quipped. "It's more like a guppy bowl."
Olsen was hoping to alleviate any negative thoughts the women were having. She'd been their biggest cheerleader for months. This was the day they'd all been waiting for. The cohort had nearly completed a brand-new 18-week business planning course. In this final session, they would be pitching their business to a panel of mock investors. But their nerves seemed to be getting the best of them.
One by one, each of the women anxiously took their place at the front of the room to make their pitch. Olsen was sure they'd overcome their fears. She'd guided the group through the curriculum and worked with them one-on-one. These women were smart, self-assured and well-spoken. They courageously brought their ideas for businesses and products to life and were passionate about what they created. But as they stood before the panel, nothing seemed to go as planned. They struggled with the technology. They struggled to look at the audience or speak at a volume that could be heard throughout the room. Most disheartening to Olsen, who'd dedicated her career to helping business owners communicate, the women struggled to tell their stories.
It was an aha moment for Olsen. She realized the business planning course was missing a critical component to success—guidance to help business owners confidently communicate their purpose and impact. She'd studied the data and knew the odds were stacked against women. In the U.S., women receive significantly less support and business funding than men. And women of color receive even fewer resources. A business plan would do them no good if they couldn't effectively pitch their business.
Olsen envisioned developing new workshops to support female founders in getting clear on their WHY—the difference they're making in the lives of others—and incorporating it into their brand stories. When the women's business development center wasn't able to offer the programming, Olsen shared the idea with Jane Oslund, advertising and promotions manager at BankCherokee. They had connected when Oslund joined the organization's volunteer marketing committee, which Olsen led. Oslund encouraged her to consider launching the programming on her own through her communications consultancy.
"Every woman business owner I know will benefit from these programs, and especially women seeking funding," Oslund said. Through BankCherokee's community reinvestment initiatives, Oslund donated her time and expertise to several different nonprofits dedicated to helping small businesses launch and grow—and specifically those supporting women and people of color. She knew marketing was critical to small business success and recognized the need for tools to help owners master these skills.
Olsen began focusing on her own business full time. When she was ready to open a business banking account, she chose BankCherokee for its commitment to supporting women in leadership roles, including bank Board Chair Heidi Gesell, and in the communities it serves. In 2018, Olsen launched My Founder Story, a social enterprise dedicated to empowering female founders through storytelling, workshops and coaching. Shortly after, when My Founder Story launched a micro grant program to increase support for women business owners, Olsen approached BankCherokee regarding a potential partnership.
"BankCherokee was founded in 1908 with a foundation of helping community businesses succeed," said Landen Hedrick, senior vice president of digital banking and marketing at BankCherokee. "For decades we've made a commitment to support women and minority business owners."
To date, thanks to community partners like BankCherokee, My Founder Story has donated more than $220,000 in grants and services to female founders.
"The funding makes a big difference for small business owners," Olsen said. "During the pandemic, micro grants helped business owners pay their rent after they were forced to close their doors and quarantine. It helped women shift from brick-and-mortar businesses to selling their products online. It allowed them to stock up on supplies. It enabled them to invest in advertising their products and services. And it continues to support women in keeping their businesses open today, thanks to BankCherokee."
"This wonderful gift will definitely make a difference," said recent grant winner Alysha Price, founder of The Price Dynamic, a Minnesota-based organization that supports single parents in becoming effective co-parents. "Five hundred dollars is equal to five supervised visits, two co-parenting coaching sessions and endless opportunities for parents to stabilize for the sake of their children."
Workshops and coaching offered by My Founder Story have also made a difference for hundreds of women business owners, including Miki Vale, founder of SoulKiss Theater, an organization dedicated to supporting queer Black women in the arts. "The Develop Your Story workshop was one of the most useful and informative I've ever attended," Vale said. "It helped me get clear on my vision as I forge ahead in my business, and it helped make it easier to explain what it is I'm doing and why to potential funders."
Olsen's experience helping women tell their stories with confidence was also the inspiration for her newest venture. She recently teamed up with Julie Burton, founder of ModernWell, a women-centered coworking space in Minneapolis, to launch Publish Her, a hybrid publishing company dedicated to elevating the words, stories and writing of women. Their collective goal is to make the publishing process attainable, and both are passionate about amplifying the voices of all women.
All Stories